Super Deluxe Ultimate RC2T Air Trunnion Shock 205x65mm ROCK SHOX Rear Suspension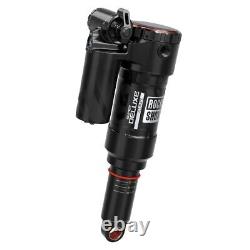 Super Deluxe Ultimate RC2T Air Trunnion Shock 205x65mm ROCK SHOX rear suspension. Marca/Brand: ROCK SHOX Codice/Code: RIDE_2055910305_0 Mpn: 00.4118.358.094_0 Ean: 4055149522483 Visualizza tutti i prodotti del nostro negozio. View all products of our shop. L'ammortizzatore con più regolazioni mai realizzato da Rock Shox. Offre regolazioni di compressione ad alta velocità e bassa velocità completamente indipendenti, eliminando il "cross-talk" in modo da poter regolare l'ammortizzatore esattamente come desideri.
Utilizzo All Mountain, Enduro, Trail - Hydraulic Bottom Out, limita il flusso dell'olio nell'ultimo 20% della corsa e offre un sistema di smorzamento idraulico morbido che impedisce l'arresto imrpovviso - Regolazione dell'estensione a 15 vie offre una gamma più ampia di opzioni di regolazione e si adatta a più tipi di riders - Posizione delle boccole massimizza le prestazioni sui piccoli urti - Pistoni Open e Threshold separati e indipendenti - Nuovo pacchetto grafico premium per rendere la tua bicicletta bella anche esteticamente - Olio per sospensioni Maxima Plush premium riduce l'attrito e offre una trazione ottimale. CARATTERISTICHE PRINCIPALI / QUICK INFO. Attacco Tipo / Connection Type : Trunnion / Trunnion Tipo / Type : Aria / Air Interasse / Wheelbase mm: 205 / 205 Corsa / Travel : 65 / 65. Rock Shox's most-adjustable shock ever. It offers fully independent high-speed and low-speed compression adjustments, eliminating "cross-talk" so you can tune the shock exactly how you want it.
All Mountain, Enduro, Trail use - Hydraulic Bottom Out, limits oil flow in the last 20% of the stroke and offers a soft hydraulic damping system that prevents sudden stop - 15-way rebound adjustment offers a wider range of options of adjustment and adapts to more types of riders - Position of the bushings maximizes performance on small bumps - Separate and independent Open and Threshold pistons - New premium graphic package to make your bicycle also aesthetically beautiful - Maxima Plush premium suspension oil reduces friction and offers optimal traction. Tutti i prodotti venduti da Ridewill sono NUOVI e hanno garanzia se non diversamente specificato di: 24 mesi per Privati (Ricevuta fiscale) per difetti di conformita' a norma di legge. 12 mesi per Aziende (Fattura Accompagnatoria con Partita Iva) a norma di legge. Questa inserzione è stata realizzata con eDock.
This item is in the category "Sport e viaggi\Ciclismo\Ricambi biciclette\Ammortizzatori posteriori". The seller is "ridewill-shop-it" and is located in this country: IT. This item can be shipped worldwide.
Marca: ROCK SHOX
MPN: 00.4118.358.094_0
imgMarca: https://img.ridewill.it/public/imgmarche/medium/68
EAN: 4055149522483
UPC: 4055149522483