Air Suspension Compressor for CITROEN C4 GRAND/PICASSO, WABCO OEM 4154048300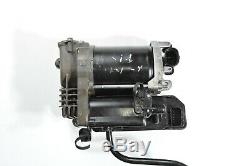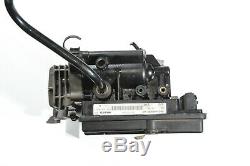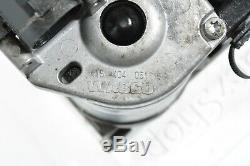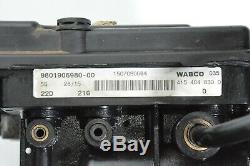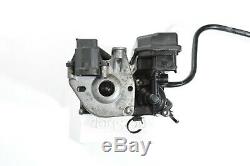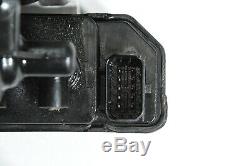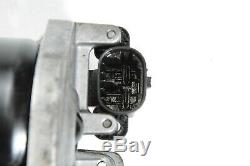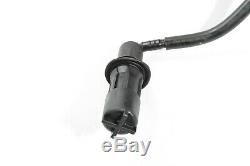 Garantie de 30 jours et les remboursements de 30 jours. Garanzia di 30 giorni e 30 giorni rimborsi.
Garantía de 30 días y 30 días reembolsos. 30-dagen garantie en 30-daagse restitutie. Refundacje 30-dniowa gwarancja i 30-dniowe.
30 de zile garantie, 30 de zile drept de retur. Air Suspension Compressor for Citroen C4 / Picasso / Grand Picasso, WABCO OEM 4154048300, 9801906980-00, 4154040516. Used Air Suspension Compressor in good working condition, tested on the vehicle before it was removed. Model C4 / Picasso / Grand Picasso. We store more parts like this as well as other parts for this vehicle. Most items are eligible for. If you are unsatisfied with the product, we can offer a replacement. The seal paint and markers applied to the parts must not be removed or damaged. Parts must not be opened, reprogrammed or altered in any way. Dezshop is a Romanian based shop, specialized in second-hand automotive parts. We operate a large, authorized facility with multiple warehouses that store car parts for a variety of commercial vehicles, SUV's, vans, trucks, and industrial equipment.
We are confident that we can provide great value for many customers in the international market. Thank you for considering dezShop!
Verified by Google My Business. Les éléments qui sont admissibles à la livraison accélérée sont remplies par DHL Express avec la livraison de 1 à 3 jours ouvrables pour la plupart des pays européens et 2 à 5 jours ouvrables dans le monde entier. Délai de livraison est compris entre 2 et 14 jours pour les pays européens et jusqu'à 25 jours dans le monde entier.
Les commandes soumises par 11h00 EET seront traitées et expédiées le jour même. Les commandes reçues après 11h00 prendront un jour ouvrable pour le traitement. Toutes nos pièces sont prêtes pour la livraison. Nous prenons grand soin lors de l'entreposage, de manutention et d'emballage chaque article. S'il vous plaît nous contacter pour les tarifs et d'autres détails.
Si vous n'êtes pas satisfait du produit, nous pouvons offrir un remplacement. Si vous rencontrez des problèmes avec nos pièces veuillez nous contacter le plus tôt possible, nous sommes confiants que nous pouvons résoudre rapidement les inconvénients qui pourraient se produire.
Pour tout remboursement s'il vous plaît être au courant des éléments suivants. La peinture d'étanchéité et des marqueurs appliqués aux parties ne doivent pas être enlevés ou endommagés. Les pièces doivent pas être ouvertes, reprogrammé ou modifié de quelque façon.
Les produits doivent être dans le même état reçu et dans l'emballage d'origine. Les pièces défectueuses qui sont l'objet de réclamations de garantie doit être accompagnée d'une preuve d'installation dans un atelier agréé ainsi que les documents fiscaux connexes, copie de la facture d'achat ainsi que la confirmation de réception de transporteur, la copie du certificat d'immatriculation du véhicule, copie du licence d'entreprise de réparation de véhicule autorisé dans laquelle l'ensemble a été fait et le diagnostic de service électrique ou mécanique publié par l'atelier agréé par lequel l'omission est constatée et décrit en détail. Dezshop est un magasin basé roumain, spécialisé dans la deuxième main des pièces automobiles.
Nous exploitons une grande installation autorisée avec plusieurs entrepôts que les pièces automobiles de magasin pour une variété de véhicules utilitaires, véhicules utilitaires sport, fourgonnettes, camions et équipements industriels. Nous avons vendu des pièces automobiles depuis plus de 10 ans: sur place, dans notre magasin physique, et au niveau national, par l'intermédiaire des services d'expédition. Nous sommes confiants que nous pouvons fournir une grande valeur pour de nombreux clients sur le marché international. Ne hésitez pas à nous contacter pour plus d'informations sur cette partie, d'autres pièces de ce véhicule, des pièces pour d'autres véhicules ou si vous voulez juste en savoir plus sur nous.
Retour sous 30 jours et les remboursements. Sur la demande rapide d'expédition DHL EXPRESS.
Prêt pour la livraison, rapide et sécurisé. Vérifié par Google My Business.
Gegenstände, die für beschleunigten Versand berechtigt sind erfüllt von DHL EXPRESS mit der Lieferung von 1 bis 3 Werktagen zu den meisten europäischen Ländern und 2 bis 5 Werktagen weltweit. Die Lieferzeit beträgt zwischen 2 und 14 Tagen für die europäischen Länder und bis zu 25 Tage weltweit. Aufträge, die nach 11.00 Uhr eingehen, werden für den Umgang mit einem Werktag dauern. Alle unsere Teile sind zur Auslieferung bereit.
Wir wenden große Sorgfalt bei der Lagerung, Handhabung und jedes Element zu packen. Bitte kontaktieren Sie uns für Preise und andere Details. Wenn Sie mit dem Produkt unzufrieden sind, können wir einen Ersatz bieten. Wenn Sie irgendwelche Probleme mit unseren Teilen erleben Sie uns bitte so bald wie möglich, sind wir zuversichtlich, dass wir umgehend die Unannehmlichkeiten lösen können, die auftreten könnten. Für die Rückerstattung bitte beachten Sie die folgenden Möglichkeiten. Die Dichtung Farbe und Markierungen auf die Teile aufgetragen dürfen nicht entfernt oder beschädigt werden.
Teile dürfen nicht in irgendeiner Weise geöffnet, neu programmiert oder geändert werden. Zurückgegebene Produkte müssen im gleichen Zustand erhalten werden und in der Originalverpackung.
Defekte Teile, die unter Garantieansprüchen sind, muß mit den entsprechenden Geschäftsunterlagen durch Nachweis der Installation in einer zugelassenen Werkstatt zusammen begleitet werden, Kopie der Kaufrechnung zusammen mit der Trägerempfangsbestätigung, Kopie der Zulassungsbescheinigung des Fahrzeugs, Kopie der autorisierte Fahrzeug-Reparatur-Geschäft Lizenz, wo die Montag gemacht wurde und die elektrische oder mechanische Service Diagnose durch die lizenzierten Werkstatt veröffentlicht von dem der Fehler ermittelt und im Detail beschrieben. Dezshop ist ein rumänischer basierte Shop, spezialisiert auf die Second-Hand-Kfz-Teile. Wir betreiben eine große ermächtigte Einrichtung mit mehreren Lagern, dass speichern Autoteile für eine Vielzahl von Nutzfahrzeugen, SUVs, Transporter, Lkws und Industrieanlagen. Wir haben Autoteile für mehr als 10 Jahren verkauft: lokal, in unserem Ladengeschäft und auf nationaler Ebene, über Versanddienste.
Wir sind zuversichtlich, dass wir großen Wert für viele Kunden auf dem internationalen Markt anbieten können. Zögern Sie nicht, uns für weitere Informationen über diesen Teil zu kontaktieren, andere Teile von diesem Fahrzeug, Teile für andere Fahrzeuge oder wenn Sie nur wollen, um mehr über uns erfahren. Danke für die Berücksichtigung dezShop! On-Demand schnell DHL EXPRESS Versand. Gli elementi che sono ammissibili per spedizione celere sono soddisfatte da DHL EXPRESS con la consegna da 1 a 3 giorni lavorativi per maggior parte dei paesi europei e da 2 a 5 giorni lavorativi in tutto il mondo.
Il termine di consegna è compreso tra 2 e 14 giorni per i paesi europei e fino a 25 giorni in tutto il mondo. Gli ordini presentati dalle 11:00 EET saranno trattati e spediti il giorno stesso. Gli ordini inviati dopo le 11:00 avranno un giorno lavorativo per la gestione.
Tutti i nostri pezzi sono pronti per la consegna. Ci prendiamo molta cura quando la conservazione, la manipolazione e l'imballaggio ogni elemento. Si prega di contattarci per le tariffe e altri dettagli. Se non sei soddisfatto con il prodotto, possiamo offrire un sostituto. Se si verificano problemi con le nostre parti non esitate a contattarci al più presto possibile, siamo fiduciosi che possiamo prontamente risolvere eventuali disagi che potrebbero verificarsi.
Per eventuali rimborsi si prega di essere a conoscenza di quanto segue. La vernice tenuta e marcatori applicati alle parti non devono essere rimossi o danneggiati. Le parti non devono essere aperte, riprogrammate o alterati in alcun modo. Prodotti restituiti devono essere nella stessa circostanza ricevuta e nell'imballaggio originale.
I pezzi difettosi che sono soggetti a diritti di garanzia deve essere accompagnata dalla prova di installazione in un laboratorio autorizzato unitamente ai relativi documenti fiscali, copia della fattura di acquisto insieme alla conferma della ricezione portante, copia del certificato di immatricolazione del veicolo, copia della licenza esclusiva attività di riparazione dei veicoli cui è stato effettuato l'assemblaggio e la diagnosi servizio elettrico o meccanico rilasciato dal laboratorio di licenza con la quale il fallimento è accertato e descritto in dettaglio. Dezshop è un negozio basato romeno, specializzato in seconda mano parti automobilistiche. Operiamo in un grande impianto, autorizzato con più magazzini che le parti negozio di auto per una varietà di veicoli commerciali, SUV, furgoni, camion e attrezzature industriali. Stiamo vendendo componenti per auto per più di 10 anni: a livello locale, presso il nostro negozio fisico, a livello nazionale e, tramite servizi di trasporto.
Siamo sicuri che siamo in grado di fornire un grande valore per molti clienti nel mercato internazionale. Non esitate a contattarci per ulteriori informazioni su questa parte, le altre componenti da questo veicolo, di ricambio per gli altri veicoli o se volete semplicemente sapere di più su di noi. I rendimenti a 30 giorni e rimborsi.
Pronti per la consegna veloce e sicuro. Verificato da Google My Business. Los artículos que son elegibles para el envío apresurado se cumplen por DHL EXPRESS con la entrega de 1 a 3 días laborales a la mayoría de los países europeos y de 2 a 5 días hábiles en todo el mundo. El plazo de entrega es de entre 2 y 14 días para los países europeos y hasta 25 días en todo el mundo.
Las órdenes cursadas después de 11 a. Tendrán un día hábil para el manejo. Todas nuestras piezas están listas para su entrega. Tenemos mucho cuidado al almacenar, manipular y embalar cada artículo. Por favor, póngase en contacto con nosotros para precios y otros detalles.
Si no está satisfecho con el producto, podemos ofrecer un reemplazo. Si experimenta algún problema con nuestras partes póngase en contacto con nosotros tan pronto como sea posible, estamos seguros de que podemos resolver rápidamente cualquier inconveniente que pudiera ocurrir. Para cualquier reembolso por favor sea consciente de lo siguiente.
La pintura sello y marcadores aplicado a las piezas no deben ser eliminados o dañados. Las piezas no deben ser abiertos, reprogramarse o alterada de ninguna manera.
Los productos devueltos deben estar en la misma condición recibida y en el embalaje original. Las piezas defectuosas que están sujetos a derechos de garantía debe ir acompañada de la prueba de la instalación en un taller autorizado junto con los documentos fiscales relacionados, copia de la factura de compra junto con la confirmación de recepción del transportista, copia del certificado de registro del vehículo, copia de la licencia autorizado negocio de reparación de vehículos donde se hizo el montaje y el diagnóstico del servicio eléctrico o mecánico dado a conocer por el taller autorizado por el cual se determina y se describe en detalle el fracaso. Dezshop es una tienda basada rumana, especializada en piezas de automóviles de segunda mano. Tenemos una gran instalación, autorizada con múltiples almacenes que partes tienda de coches para una variedad de vehículos comerciales, SUV, furgonetas, camiones y equipos industriales. Hemos estado vendiendo piezas de automóviles durante más de 10 años: a nivel local, en nuestra tienda física, ya nivel nacional, a través de servicios de envío. Estamos seguros de que podemos proporcionar un gran valor para muchos clientes en el mercado internacional. No dude en ponerse en contacto con nosotros para obtener más información sobre esta parte, otras piezas de este vehículo, partes de otros vehículos o si simplemente quiere saber más acerca de nosotros. Retornos de 30 días y de las restituciones. En la demanda el envío rápido DHL EXPRESS. Listo para la entrega, rápido y seguro. Verified by Google Mi Negocio. Items die in aanmerking komen voor een versnelde scheepvaart zijn, worden vervuld door DHL EXPRESS met de levering 1-3 werkdagen naar de meeste Europese landen en 2 tot 5 werkdagen de hele wereld. De levertijd is tussen 2 en 14 dagen voor de Europese landen en tot 25 dagen wereldwijd. Door 11:00 EET ingediend Bestellingen worden verwerkt en verzonden op dezelfde dag. Na 11:00 ingediend orden zullen één werkdag te nemen voor de behandeling. Al onze onderdelen zijn klaar voor levering. Wij besteden veel aandacht bij het opslaan, verwerken en verpakken van elk item. Neem dan contact met ons op voor prijzen en andere details. Als u niet tevreden bent met het product, kunnen we een vervanger te bieden.
Als u last heeft van problemen met ons delen, neem dan zo spoedig mogelijk contact met ons op, wij zijn ervan overtuigd dat we kunnen snel het ongemak die zich kunnen voordoen op te lossen. Voor eventuele terugbetalingen kunt u zich bewust zijn van de volgende. De afdichting verf en markers aangebracht op de delen mogen niet worden verwijderd of beschadigd. Onderdelen mogen niet worden geopend, geprogrammeerd of op enigerlei wijze veranderd. Geretourneerde producten moeten in de oorspronkelijke staat ontvangen en in de originele verpakking.
Defecte onderdelen die onderhevig zijn aan garantieclaims moet vergezeld gaan van een bewijs van de installatie in een erkende workshop samen met de bijbehorende fiscale documenten, kopie van de aankoopfactuur, samen met de vervoerder ontvangstbevestiging, kopiëren van het kentekenbewijs van het voertuig, een kopie van de geautoriseerde reparatie-business licentie, waar de vergadering werd gemaakt en de elektrische of mechanische dienst diagnose vrijgegeven door de erkende workshop dat het stilzwijgen wordt vastgesteld en in detail beschreven. Dezshop is een Roemeense gebaseerde winkel gespecialiseerd in gebruikte auto-onderdelen. Wij hanteren een grote, erkende faciliteit met meerdere magazijnen die winkel auto-onderdelen voor een verscheidenheid van commerciële voertuigen, SUV's, bestelwagens, vrachtwagens en industriële apparatuur. We hebben de verkoop van auto-onderdelen voor meer dan 10 jaar: lokaal, in onze fysieke winkel, en nationaal, via lijndiensten. We zijn ervan overtuigd dat we grote waarde kan bieden voor vele klanten in de internationale markt.
Aarzel niet om contact met ons op voor meer informatie over dit deel, andere delen van dit voertuig, onderdelen voor andere voertuigen of als u gewoon meer wilt weten over ons weten. Dank u voor het overwegen dezShop u! Klaar voor de levering, snelle en veilige. Verified by Google Mijn Bedrijf.
DHL EXPRESS 1 3 2 5. Przedmioty, które kwalifikuj si do przyspieszonego wysyce s spenione przez DHL Express z dostaw od 1 do 3 dni roboczych do wikszoci krajów europejskich i 2 do 5 dni roboczych na caym wiecie. Czas dostawy wynosi od 2 do 14 dni dla krajów europejskich oraz do 25 dni na caym wiecie. Zamówienia zoone po godzinie 11:00 odbdzie si jeden dzie roboczy dla obsugi. Wszystkie nasze czci s gotowe do odbioru.
Dbamy podczas przechowywania, przenoszenia i pakowania kady element. Prosz o kontakt w sprawie stawek i innych szczegóów.
Jeli jeste niezadowolony z produktu, moemy zaoferowa wymian. Jeli wystpi jakie problemy z naszymi czci skontaktuj si z nami jak najszybciej, jestemy pewni, e moemy szybko rozwiza wszelkie niedogodnoci, które mog wystpi. W przypadku jakichkolwiek refundacji naley zdawa sobie spraw z poniszych sytuacji. Farba piecz i markery stosowane do czci nie musz by usunite lub uszkodzone. Czci nie musz by otwarte, przeprogramowa lub w jakikolwiek sposób zmienione. Zwracany towar musi by w takim samym stanie otrzymanym iw oryginalnym opakowaniu. Uszkodzone czci, które s przedmiotem roszcze gwarancyjnych naley doczy dowód montau w licencjonowanym warsztacie wraz z odpowiednimi dokumentami fiskalnymi, kopia faktury zakupu wraz z potwierdzeniem odbioru przewonik, kopia dowodu rejestracyjnego pojazdu, kopi upowaniony zezwolenia na prowadzenie dziaalnoci naprawy pojazdów, gdzie zespó powsta i elektryczny lub mechaniczny diagnoza serwis wydany przez uprawnionego warsztatu, w którym brak jest stwierdzone i szczegóowo opisane. Dezshop jest oparty sklep rumuski, specjalizuje si w uywanych czci samochodowych. Dziaamy duy, autoryzowanym z wieloma magazynami, e czci samochodowe sklep dla rónych pojazdów dostawczych, SUV, dostawczych, ciarowych i urzdze przemysowych. Zostalimy sprzeday czci samochodowych od ponad 10 lat: na miejscu, w naszym fizycznym sklepie, jak i krajowym, za porednictwem usug przewozowych. Jestemy przekonani, e moemy dostarczy wielk warto dla wielu klientów na rynku midzynarodowym. Nie wahaj si skontaktowa si z nami, aby uzyska wicej informacji na temat tej czci, inne czci z tego pojazdu, czci do innych pojazdów lub jeli po prostu chcesz dowiedzie si wicej o nas. Na danie szybka wysyka DHL EXPRESS. Gotowy do dostawy, szybka i bezpieczna. Zweryfikowane przez Google Moja Firma. Livrare prin DHL EXPRESS in Europa in 1-3 zile lucratoare si in toata lumea in 2-5 zile lucratoare.
Livrare in Europa in 2-14 zile lucratoare si in toata lumea pana la 25 de zile lucratoare. Comenzile plasate dupa ora 11:00 se livreaza a doua zi. Toate piesele afisate sunt pe stoc si gata de expediere. Va rugam sa ne contactati pentru mai multe informatii.
Daca este necesar returul va rugam sa ne spuneti daca alta piesa este acceptata. Daca aveti orice fel de probleme cu piesele achizitionate de la noi va rugam sa ne contactati cat mai repede, suntem siguri ca putem rezolva orice fel de problema in cel mai scurt timp.
Pentru orice retur va rugam sa luati in considerare urmatoarele. Marcajele cu vopsea de pe piese trebuie sa fie intacte. Piesele nu trebuie sa fie desfacute sau modificate in nici un fel.
Piesele returnate trebuie sa fie in aceeasi conditie in care au fost primite si in ambalajul original. Piesele defecte pentru care se solicita garantie trebuie sa fie insotite de dovada instalarii unui service autorizat impreuna cu documentele fiscale, copie dupa factura si confirmarea de primire de la curier, copie dupa certificatul de garantie al vehicului, copie dupa certificatul de functionare al unitatii unde s-a executat lucrarea si deviz de lucrare / constatare prin care se constata si se descrie detaliat defectiunea. Dezshop este un magazin cu o vasta experienta in comercializarea de piese auto second-hand situat in Romania. Operam un centru de dezmembrari autorizat desfasurat pe suprafata a mai multor terenuri si hale in care stocam piese pentru o varietate de vehicule comerciale, turisme, SUV-uri, camionete, auto-utilitare, camioane si alte echipamente industriale. Vindem piese auto local, la magazinul nostru fizic, si national prin curierat rapid de mai mult de 10 ani. Suntem convinsi ca putem aduce valoare pentru multi clienti pe piata internationala. Nu ezitati sa ne contactati pentru mai multe informatii despre aceasta piesa, alte piese pentru acelasi vehicul si pentru alte vehicule, sau daca doar vreti sa aflati mai multe despre noi. Va multumim ca ati ales dezShop!
30 de zile drept de retur. La cerere livrare in 1-3 zile prin DHL EXPRESS. Piesa este gata pentru livrare. Verificat de Google My Business. The item "Air Suspension Compressor for CITROEN C4 GRAND/PICASSO, WABCO OEM 4154048300" is in sale since Monday, January 20, 2020.
This item is in the category "eBay Motors\Parts & Accessories\Car & Truck Parts\Suspension & Steering\Other". The seller is "dezshop" and is located in Agigea. This item can be shipped worldwide.
Manufacturer Part Number: 4154048300
Included Hardware: Compressor
Other Part Number: 9801906980
Brand: WABCO