Air Can Upgrade Kit-Megneg RockShox Deluxe/Super Deluxe Black Free Shipping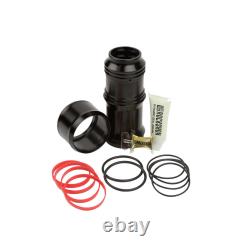 Featuring more tunability than ever before, the Megneg air can provides an even larger negative volume giving you more mid-stroke support, a plusher initial feeling, and more bottom out force using less tokens. Air Can Upgrade Kit-Megneg RockShox Deluxe/Super Deluxe Black 185/210x47.5-55mm. Go ahead and tune your shock exactly to your ride.
Includes air can, tokens, seals & decals. Compatible with Deluxe and Super Deluxe shocks. Upgrade Kit Model Deluxe/Super Deluxe. Thank you for visiting our product. We usually dispatch all orders the same day, if ordered before our cut-off time.
However some items are located at non-dispatch warehouse locations which means an extra day or two before we dispatch the order. If you wish to return an item after receiving your order you have 30 days to return your item. We will endeavour to turn an unhappy experience into a positive one.
SDJ Sports was founded in 2012 by Steve Gill, Dominic Coates and Joe McNeice - three sports retail business professionals and keen sports enthusiasts who shared a common vision - to offer quality sports brands at all price points to worldwide customers and to fully utilise their combined years of experience and supplier relationships in the sports retail sector. We are committed to provide you with the very best online shopping experience.
Our store features many products spanning a large range of sports.